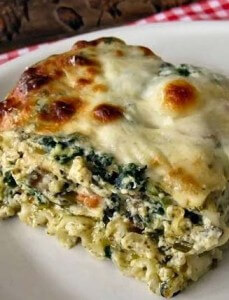 A vegetarian lasagna? In my house? This was a bold move. There is ground rule in my house, they will try any meat and they will most likely like it. No, they are not against vegetarian dishes – but whenever I have brought up a vegetarian lasagna in the past I always got the same response, "Lasagna should have meat in it. Until now. Sorry folks. When I saw this recipe at Pinterest, I knew I had to make it. I LOVE cheese, pesto, spinach and mushrooms – so of course I should love it!
If you are on a diet and if you have been good for a while, then reward yourself with this treat. Its calorie rich – yes, but its also naturally nutrition giving thanks to protein from cheese. Fiber, vitamins and carbs from Brown rice pasta and mushrooms not to talk about "I am oh so good for you" spinach. So now to the most interesting part of this post – taste. So how does this Lasagna taste? Its delicate. Its creamy with a capital C. Spinach never tasted better than this! There is something to be said of mushrooms that's sauteed in butter. They are made for each other. These delicious mushrooms makes this dish hearty. Verdict? They liked it but would prefer meat in it. Well, It's completely fair, they are willing to try anything I cook. lol
Spinach, Mushroom and Pesto Lasagna
Ingredients
9 lasagna noodles
10 oz chopped frozen spinach, thawed and squeezed dry
1 3/4 cup ricotta cheese
1 large egg
1/2 tsp garlic powder
salt and pepper
1 TBSP olive oil
1 TBSP butter
2 cups diced onion
1/2 red bell pepper, seeded and diced
dash of crushed red pepper flakes
8 ounces of button mushrooms, coarsely chopped
2 cloves garlic, minced
2 TBSP all-purpose flour
1 1/2 cups whole milk
1 1/2 cups Half & Half
3/4 cup plus 2 TBSP basil pesto
12 oz mozzarella cheese (I used slices)
1/4 cup grated parmesan cheese
Preheat oven to 350 degrees. Spray an 8" X 11 1/2" baking dish with cooking spray.
In a separate baking dish place lasagna noodles and cover with boiling water.
Let sit for 15 minutes while making the sauce.
In a medium size mixing bowl, combine the spinach, ricotta cheese, garlic powder and egg. Season well with salt and pepper. Set aside.
In a large skillet heat olive oil and butter over medium heat.
Add the onions and bell pepper, season with salt, pepper and crushed red pepper flakes and saute until onions are translucent, 6-7 minutes. Add the mushrooms and continue to saute until mushrooms lose their moisture, another 5-7 minutes. Add the garlic and saute for another minute or two. Sprinkle the flour over the vegetables and stir to combine.
Continue cooking and stirring over medium heat for two minutes.
Add the milk and half & half, bring to a boil, reduce heat and simmer for 4-5 minutes until sauce has thickened a bit.
Remove from heat and stir in 3/4 cup pesto. Taste to see if salt and pepper are needed.
Drain lasagna noodles.
Spoon 2 TBSP of the pesto on the bottom of the prepared baking dish.
Lay three noodles on top of the pesto.
Top with 1/3 of the basil cream sauce (about 1 1/2 cups) and spread to cover noodles.
Dollop 1/3 of the ricotta mixture on top of the sauce, then top the ricotta with 1/3 of the cheese slices.
Repeat layers two more times. Sprinkle parmesan cheese over the top.
Cover tightly with aluminum foil and place dish in oven.
Bake for 25 minutes, uncover, then bake for another 25 minutes, until bubbly and browned.
Let dish sit for 10-15 minutes before serving.
https://foodietale.com/main-dish/spinach-mushroom-and-pesto-lasagna/