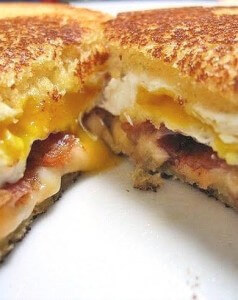 If you have read this site for long Y'all pretty much know by now how I feel about cheese and bacon. Bacon and cheese makes everything better, and I could not think of anything better to go with bacon and cheese than an egg. So, what do you have when you combine bacon, egg, and cheese on a sandwich? You have a delicious breakfast grilled cheese sandwiches. Just imagine them being crisp, greasy, cheesy, and bacony. Mmmm… I might be out of control.
Grilled Cheese Sandwich with Bacon and Fried Egg
Ingredients
2 slices bacon
1 egg
2 slices any kind of bread
butter
cheddar cheese, sliced
Fry the bacon until crispy. Drain on paper towels and set aside. Wipe out the pan.
Fry the egg in the same pan as the bacon to desired doneness.
It is best to leave the yolk a little runny, as it makes the sandwich that much more delicious.
Heat a flat griddle over medium-high. Butter one side of each piece of bread.
Assemble the sandwich with the cheese, egg and bacon, buttered sides out.
Place the sandwich on the hot griddle and cook until well browned.
Flip carefully and cook the other side. Serve right away.
Notes: If you are making several sandwiches, you will have to lower the heat between sandwiches or they will start to burn before the cheese gets melty.
https://foodietale.com/sandwiches/grilled-cheese-sandwich-with-bacon-and-fried-egg/